PuTTY is the most popular SSH client for Windows based systems. In fact it's so popular that people actually install it in Linux (apt-get install putty)I. PuTTY is easy to use and you can save a lot of preferences. However, is PuTTY is best? To be honest, I think not. Here's my list of top 4 PuTTY alternatives:
1. KiTTY
KiTTY is a fork from version 0.70 of PuTTY, the best telnet / SSH client in the world. KiTTY is only designed for the Microsoft® Windows® platform. KiTTY has all the features from the original software, and adds many others as described below: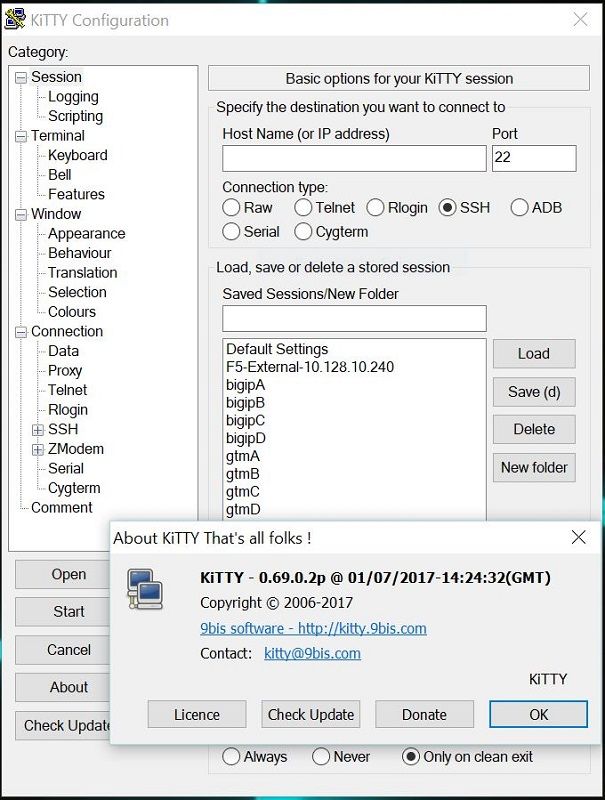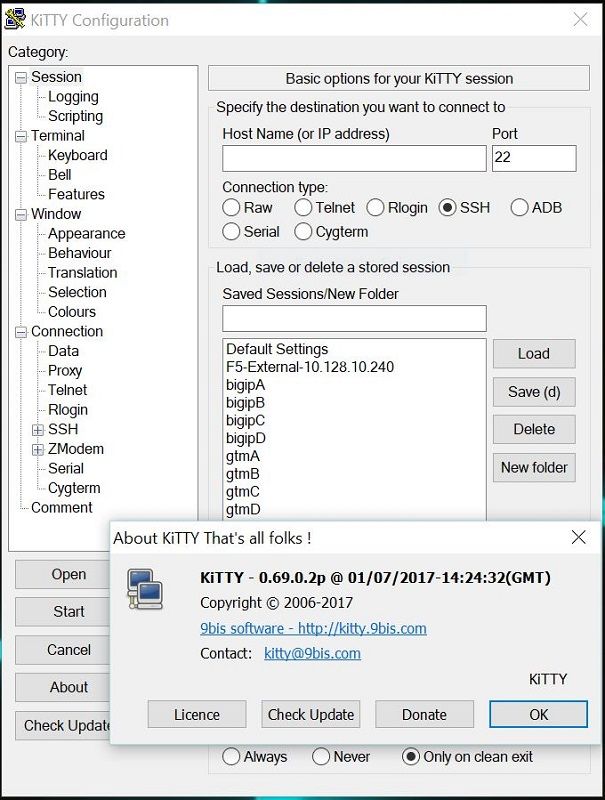 The very first requested features:
Sessions filter
Portability
Shortcuts for pre-defined command
The session launcher
Automatic logon script
Automatic logon script with the RuTTY patch
URL hyperlinks
Technical features:
Automatic password
Automatic command
Running a locally saved script on a remote session
ZModem integration
Graphical features:
An icon for each session
Send to tray
Transparency
Protection against unfortunate keyboard input
Roll-up
Always visiblecyd
Quick start of a duplicate session
Config Box
Other features:
Automatic saving
SSH Handler: Internet Explorer integration
pscp.exe and WinSCP integration
Binary compression
Clipboard printing
The PuTTYCyg patch
Background image
File association
Other settings
New command-line options
Bonus:
A light chat server is hidden in KiTTY
A hidden text editor is integrated into KiTTY
Download KiTTY
2. mRemoteNG
mRemoteNG is a fork of mRemote: an open source, tabbed, multi-protocol, remote connections manager. mRemoteNG adds bug fixes and new features to mRemote.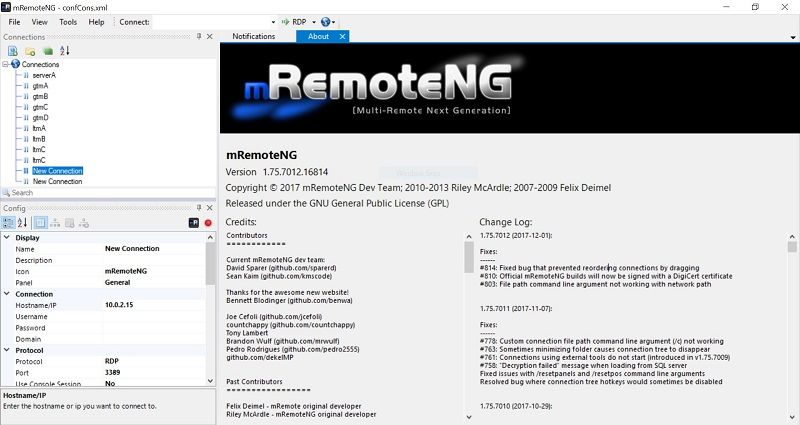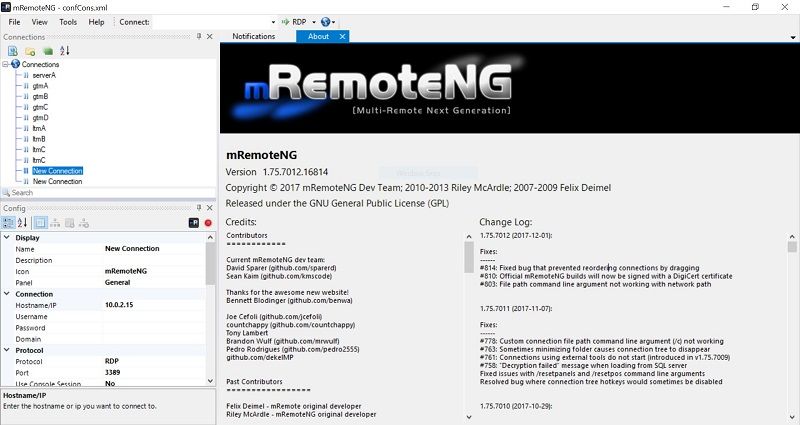 It allows you to view all of your remote connections in a simple yet powerful tabbed interface.
mRemoteNG supports the following protocols:
RDP (Remote Desktop/Terminal Server)
VNC (Virtual Network Computing)
ICA (Citrix Independent Computing Architecture)
SSH (Secure Shell)
Telnet (TELecommunication NETwork)
HTTP/HTTPS (Hypertext Transfer Protocol)
rlogin
Raw Socket Connections
Supported Operating Systems
Windows 7 SP1
Windows Server 2008 R2
Windows 8.1
Windows Server 2012
Windows Server 2012 R2
Windows 10
Download mRemoteNG
3. Xshell 5
Xshell is a powerful terminal emulator that supports SSH, SFTP, TELNET, RLOGIN and SERIAL. It delivers industry leading performance and feature sets that are not available in its free alternatives. Features that enterprise users will find useful include a tabbed environment, dynamic port forwarding, custom key mapping, user defined buttons, VB scripting, and UNICODE terminal for displaying 2 byte characters and international language support.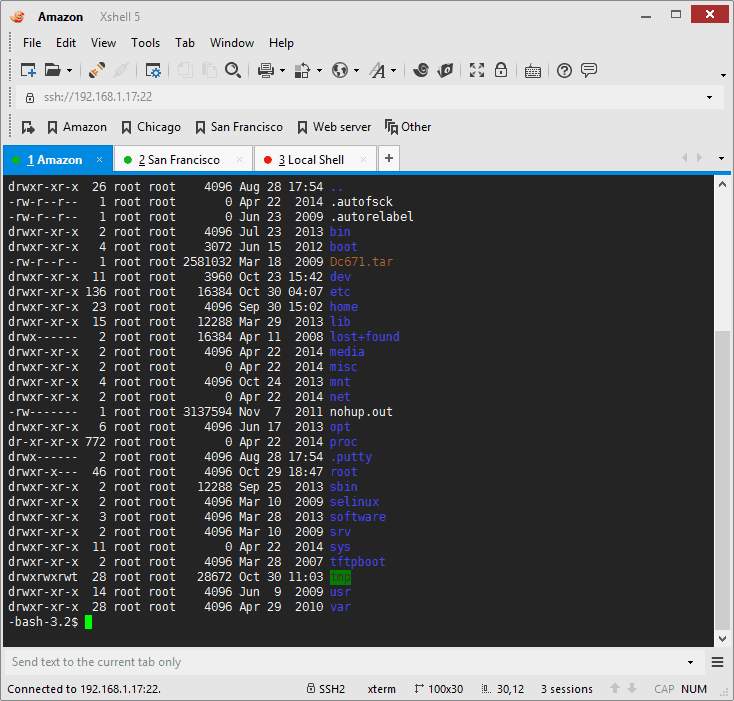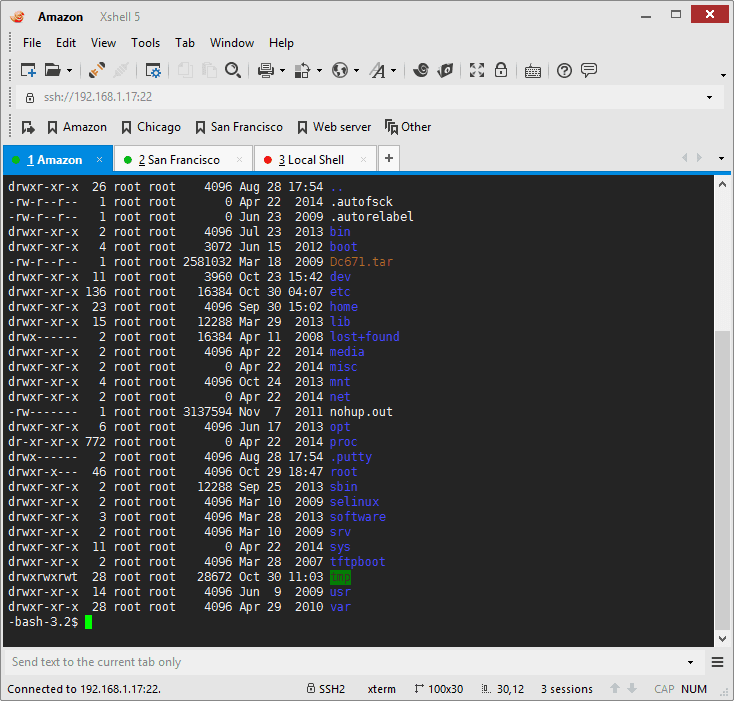 Xshell offers many user friendly features that are not available in other terminal emulators. These features include Zmodem file uploads by drag and drop, Zmodem file downloads by selecting the file name, simple mode, full screen mode, transparency options, and a custom layout mode. Save time and effort when performing terminal tasks using Xshell.
Xshell is free for home and school use. Please read our free for home and school use license agreement for terms and conditions.
Key Features:
Flexible and Powerful Tabbed Environment
IPv6 Ready.
Client Authentication with MIT Kerberos
Up-to-Date Xshell
Redirect Key Input to Multiple Terminals
Secured Sessions With a Master Password
Prevents Unauthorized Access with Automatic Terminal Lock
Edit Terminal Contents With a User Defined Text Editor
Powerful Automation With More Scripting Language Support
User Defined Key Map Support
Multiple Language Support for Global Users
Multiple Sessions in a Single Window With the Session Tab
Control Xshell Using the Local Shell Interface
Quick SSH/Telnet Connections Using the Address Bar
Send Frequently Used Commands and Strings Using Quick Command
Secure Communication with SSH
Launch X Applications Through SSH Tunnel (X11 Forwarding)
Send a String to Multiple Servers at Once With the Compose Bar
Real time Channel Monitoring (SSH) Using the Tunneling Bar
Send Responses Automatically with Wait & Response
Download Xshell 5
4. MobaXterm
MobaXterm is an enhanced terminal for Windows with X11 server, tabbed SSH client, network tools and much more. MobaXterm provides all the important remote network tools (SSH, X11, RDP, VNC, FTP, MOSH, …) and Unix commands (bash, ls, cat, sed, grep, awk, rsync, …) to Windows desktop, in a single portable exe file which works out of the box.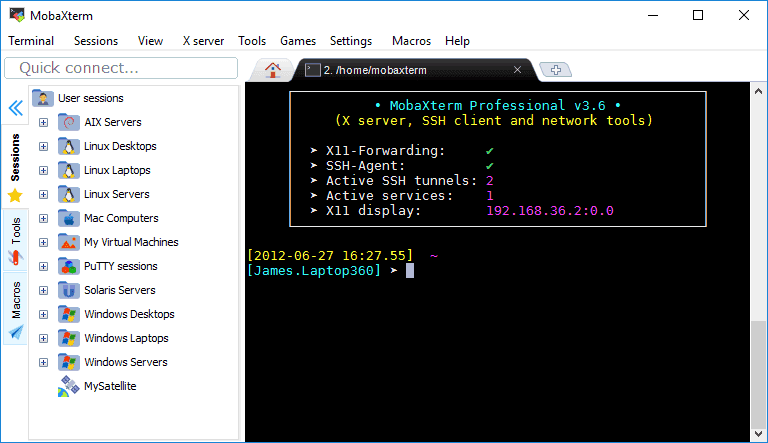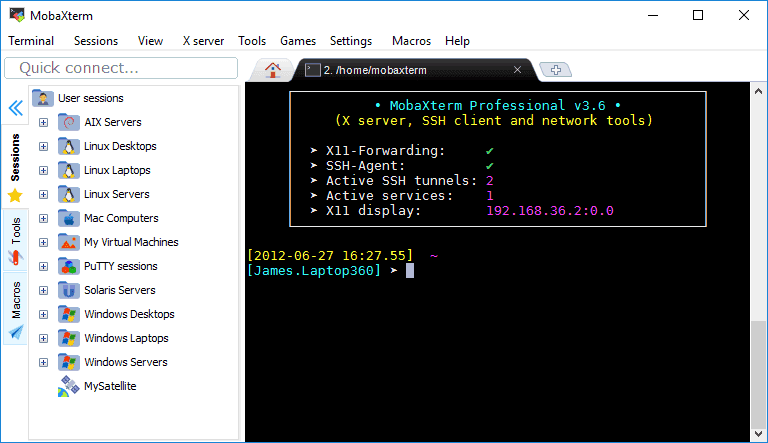 You can download and use MobaXterm Home Edition for free. There are many advantages of having an All-In-One network application for your remote tasks, e.g. when you use SSH to connect to a remote server, a graphical SFTP browser will automatically pop up in order to directly edit your remote files. Your remote applications will also display seamlessly on your Windows desktop using the embedded X server.
Key Features
Embedded X server
Easy DISPLAY exportation
X11-Forwarding capability
Tabbed terminal with SSH
Many Unix/Linux commands on Windows
Basic Cygwin commands (bash, grep, awk, sed, rsync,…)
Add-ons and plugins
Versatile session manager – All your network tools in one app: Rdp, Vnc, Ssh, Mosh, X11, …
Portable and light application
MobaXterm has been packaged as a single executable which does not require admin rights and which you can start from an USB stick
Download MobaXterm