I just installed Kali Linux 1.0.6 on VirtualBox. My installation finished without a problem but when I tried to Login, I had the following error
Could not apply stored configuration to monitors. Error on line 1 Char 1. Document was empty or contained whitespace


This error doesn't really stop me from doing anything, (I just pressed Close and it went away for the whole session), but next time I reboot and tried to Login, same error popped up. After few times, I was just annoyed and started looking around for a solutions.
I later found that many users got similar problem's in Ubuntu, Linux Mint, CentOS and in my case Kali Linux. This problem is not only limited to VirtualBox, it also affects Microsoft Virtual PC 2007 and standalone installation. In this guide we will try to solve it for the following types of installation
Linux installed  in VirtualBox
Linux installed in Microsoft Virtual PC 2007
Standalone Installation
Following is how I fixed my issue in Kali Linux, the same steps applies to Ubuntu, Linux Mint or any other Linux distributions.
Fix "Could not apply stored configuration to monitors error" in Kali Linux
Login to your terminal. In Kali Linux you're probably already logged in as root. Many people create non root or standard user in Kali Linux, so if you're one of them, Login to your own account. Once logged in change your directory to .config folder in your home directory.
cd .config
Rename monitors.xml file to monitors.xml.bkp. In here, we are keeping a backup file just to play safe.
mv monitors.xml monitorx.xml.bkp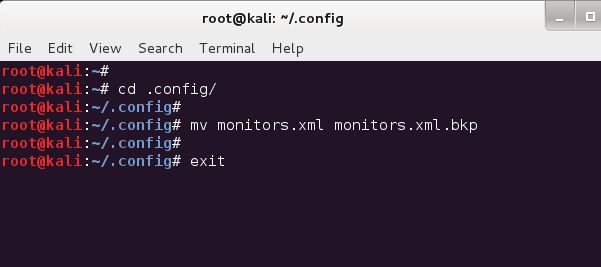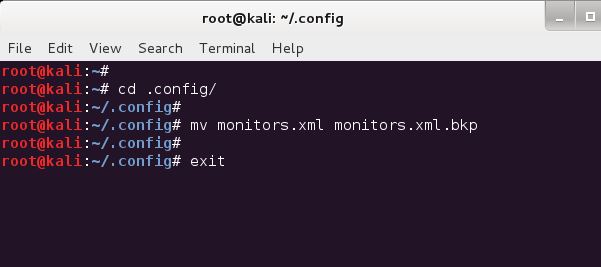 That was easy. Now Logout and Login back again in your account.
No more annoying useless popups saying "Could not apply stored configuration to monitors". Now you can delete monitors.xml.bkp file if you feel like.
Thanks for reading. If you found this useful, please share and follow me on Facebook/Twitter for regular updates.