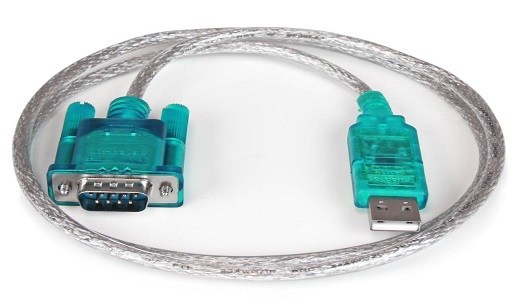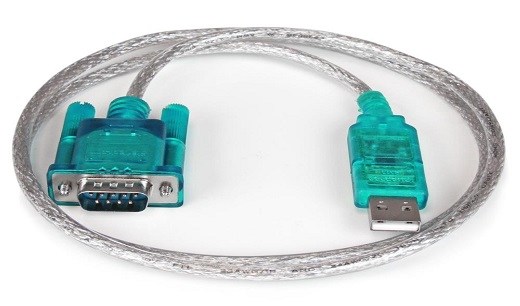 I use Prolific USB to RJ45 Ethernet dongle and I found that recently in almost any Windows version, I get Core 10 error. This guide shows how to fix Prolific USB to Serial or Prolific USB RJ45 Ethernet Code 10 error. This guide should work for Windows XP, Windows 7, Windows 8, Windows 8.1 and Windows 10 and both 32 bit or 64 bit. Specific driver for my USB dongle is Prolific PL 2303 Driver (VID_067B&PID_2303)
What I did (this didn't work)
Plugged in the Prolific dongle and this is what I get via Device Manager:

So yes, Windows didn't pick up the driver. So I used good old trusty google.com and searched for "Prolific Driver". Hit the first result (that looks like the official Prolific Page: http://www.prolific.com.tw/US/ShowProduct.aspx?p_id=225&pcid=41) and downloaded PL2303_Prolific_DriverInstaller_v1.17.0.zip.
This zip file contained 3 files and obviously I ran PL2303_Prolific_DriverInstaller_v1170.exe file to install Prolific Driver in good faith. After that, it didn't improve at all. My Device Manager in Windows shows the following:


The Yellow triangle next to Prolific USB-to-Serial Comm Port (COM4) means correct driver version is not installed. Right-click properties shows the following: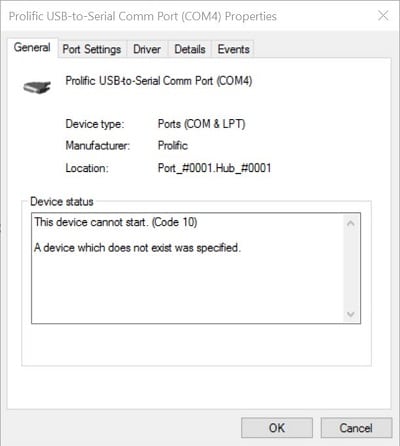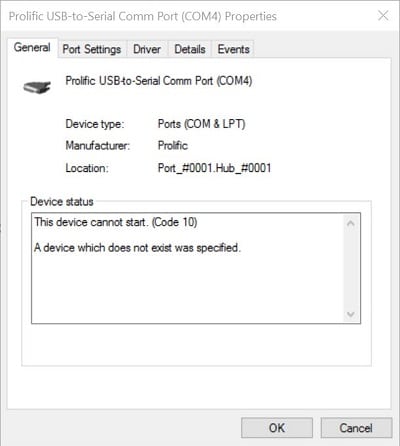 Great!!!
The device cannot start. (Code 10)
A device which does not exist was specified.
You normally get a variation of the following messages
This Device cannot start (Code 10)
The drivers for this device are not installed. (Code 28)
No driver installed for this device
Device driver was not successfully installed
There are no compatible drivers for this device.
To make it worse, I got this Prolific USB to Ethernet/RJ45 adapter directly from IBM. There's seems to be a lot of threads around different website/forums discussing this problem, but I just couldn't find a fix and the reason for it. Every company selling these Prolific USB dongle claims they are selling the correct version and chipset but Windows simply didn't detect these when I've(or most people) used the Prolific Driver. It seems the main cause of this issue is these devices are using counterfeit Prolific chip made in China or in some cases as claimed by companies Taiwan. Good or bad, original or counterfeit; they all uses the same hardware id and product id that's registered to Windows Registry
Vendor ID:  VID_067B
Product ID: PID_2303
To combat this, original Prolific company made changes to their newest drivers to render the counterfeit adapters unusable. Unfortunately this decision also renders all earlier adapters inoperative.
Alex posted a great detail on these issues in his website:
The Prolific 64-bit drivers that Microsoft supplies via Windows Update, Versions 3.4.67.325, 3.4.25.218, 2.1.51.238, and 3.4.62.293 will not work with most adapters and therefore issues the generic "Code 10" error.

Or you may get no error at all, but your device will still not work.

If your adapter was working prior to going to Windows Update, you can "roll back" to the previous installed driver and all will be well once again.\

However, if you didn't have a previous driver installed that worked, you'll have to go through the process of removing any PL-2303 driver installation programs,the actual driver files, and the information (.INF) file, BEFORE you are able to successfully install the correct driver.

What aggravates this issue is that there are many "Prolific Driver Removal Tools" that do not work properly!

And Windows 8, 8.1, and Window 10 are set by default to automatically update your drivers without your permission or even notifying you of the update. So no matter how many times you remove the driver files and reboot, the next time you insert the USB-To-Serial adapter, Windows installs the newest non-working version again. Yes, it's frustrating.
Working driver for Prolific Dongle
Windows 64-bit
You can download PL2303_64bit_ Installer.exe. Virustotal report here.
Unplug all USB to Serial adapters from your computer.
Install PL2303_64bit_Installer.exe
When it prompts you, plug in one (1) of your USB-To-Serial adapters and click "Continue".
Finish/Reboot your computer.
After installing the driver a working Prolific USB Dongle would show the following information in the Device Manager > Driver Details section:
Driver Date: 24/09/2008
Driver Version: 3.3.2.102
Windows 32-bit
You can download PL-2303_Driver_ Installer.exe. Virustotal report here.
Unplug all USB to Serial adapters from your computer.
Install PL-2303_Driver_ Installer.exe
When it prompts you, plug in one (1) of your USB-To-Serial adapters and click "Continue".
Finish/Reboot your computer.
Removal of this tool:
The Prolific 32-bit PL-2303_Driver_Installer is a "Program" file and therefore installed to your computer and must stay. If you want to delete it, use the Windows "Uninstall a Program" or "Add or Remove Program" feature, however this will also uninstall the driver itself.
Source:
http://www.totalcardiagnostics.com/support/Knowledgebase/Article/View/92/20/prolific-usb-to-serial-fix-official-solution-to-code-10-error