The Panama Papers are a set of 11.5 million confidential documents created by the Panamanian corporate service provider Mossack Fonseca that provide detailed information on more than 214,000 offshore companies, including the identities of shareholders and directors. The acting heads of state of five countries, namely Argentina, Iceland, Saudi Arabia, Ukraine and United Arab Emirates are identified in the documents, as are government officials, close relatives and close associates of various heads of government of over 40 other countries, including China, Brazil, France, India, Malaysia, Mexico, Pakistan, Russia, South Africa, South Korea, United Kingdom and Syria.
Over 11.5 Million Leaked Files including 2.6 Terabytes of Data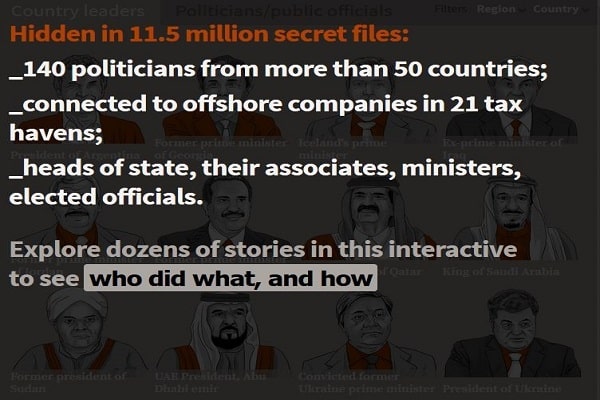 Comprising 11.5 million documents created since the 1970s, the 2.6-terabyte set was given to the German newspaper Süddeutsche Zeitung in 2015 and subsequently to the Washington-based International Consortium of Investigative Journalists (ICIJ). The papers were distributed to and analyzed by about 400 journalists at 107 media organizations in more than 80 countries. The first news reports based on the set, along with 149 of the documents themselves, were published on April 3, 2016. Among other planned disclosures, the full list of companies is to be released in early May.
Mossack Fonseca is a Panamanian law firm and corporate service provider founded in 1977 by Jürgen Mossack and Ramón Fonseca. The company's services include incorporating companies in offshore jurisdictions, administering offshore firms and providing wealth management services. The company has more than 500 employees in more than 40 offices around the world. The firm has acted on behalf of more than 300,000 companies, most of which are registered in the UK or are British-administered tax havens.
The firm works with the world's biggest financial institutions, such as Deutsche Bank, HSBC, Société Générale, Credit Suisse, UBS and Commerzbank.[5] Before the Panama Papers leak, Mossack Fonseca was described by the Economist as a "tight-lipped" industry leader in offshore finance.[7] An article on the Australian Broadcasting Corporation website explains:
Using complex shell company structures and trust accounts Mossack Fonseca services allow its clients to operate behind an often impenetrable wall of secrecy. Mossack Fonseca's success relies on a global network of accountants and prestigious banks that hire the law firm to manage the finances of their wealthy clients. Banks are the big drivers behind the creation of hard-to-trace companies in tax havens.
Much of the firm's work is perfectly legal and benign. But for the first time the leak takes us inside its inner workings, providing rare insight into an operation which offers shady operators plenty of room to manoeuvre.
The massive security breach shows how a global industry of law firms and big banks sells financial secrecy to politicians, fraudsters and drug traffickers as well as billionaires, celebrities and sports stars.
The exposé of Panama-based Mossack Fonseca has been made possible by an unprecedented leak of more than 11 million documents to German investigative newspaper Süddeutsche Zeitung.
The leak came from an anonymous source and was then shared with the International Consortium of Investigative Journalists (ICIJ) which organized an investigation by news organizations around the world.
The cache of documents includes emails, banking details and client records dating back 40 years and reveals the inner workings of a law firm famed for its secrecy.
The leak reveals the offshore holdings of 12 current and former world leaders including Iceland's Prime Minister Sigmundur David Gunnlaugsson, as well as relatives of Syria's President Bashar al-Assad, friends of Russian President Vladimir Putin and members of China's Communist Party elite.
More than 1,000 Australian links to companies have been found in the data leak including the passports of hundreds of Australian citizens connected to companies as directors, shareholders and beneficial owners.
Over 500 Indians Figure on the List.
Twenty-nine Forbes-listed billionaires are also named in the leak.
Here's some list of names that came up using Mossack Fonseca:
Heads of state and government
Current
Mauricio Macri, President of Argentina
Sigmundur Davíð Gunnlaugsson, Prime Minister of Iceland
Salman, King of Saudi Arabia
Khalifa bin Zayed Al Nahyan, President of the United Arab Emirates and Emir of Abu Dhabi
Petro Poroshenko, President of Ukraine
Former
Bidzina Ivanishvili, Prime Minister of Georgia
Ayad Allawi, Acting Prime Minister of Iraq
Ali Abu al-Ragheb, Prime Minister of Jordan
Hamad bin Khalifa Al Thani, Emir of Qatar
Hamad bin Jassim bin Jaber Al Thani, Prime Minister of Qatar
Ahmed al-Mirghani, President of Sudan
Pavlo Lazarenko, Prime Minister of Ukraine
However, the list doesn't have USA even as a selection. Many are calling it Western sponsored leak as Mossack Fonseca leak doesn't have any Western Corporations or Western Billionaires who you would think as the primary clients. USA being the largest and most powerful also has the highest number of Billionaires and corporations. Large media outlets already mentioned that "much of the leaked material will remain private."
The leak is being managed by "International Consortium of Investigative Journalists", which is funded and organized mostly the USA's Center for Public Integrity. Recent ICIJ funders include
Adessium Foundation
Open Society Foundations
The Sigrid Rausing Trust
Fritt Ord Foundation
Pulitzer Center on Crisis Reporting
The Ford Foundation
The David and Lucile Packard Foundation
Pew Charitable Trusts and Waterloo Foundation
Sources:
http://panamapapers.sueddeutsche.de/en/
https://en.wikipedia.org/wiki/Panama_Papers
https://en.wikipedia.org/wiki/List_of_people_named_in_the_Panama_Papers
https://www.icij.org/about