Step 4: Connect to PIA VPN
Click Network Manager > VPN Connections > PrivateInternetAccess VPN
You will see a yellowish colored connection indicator while connecting.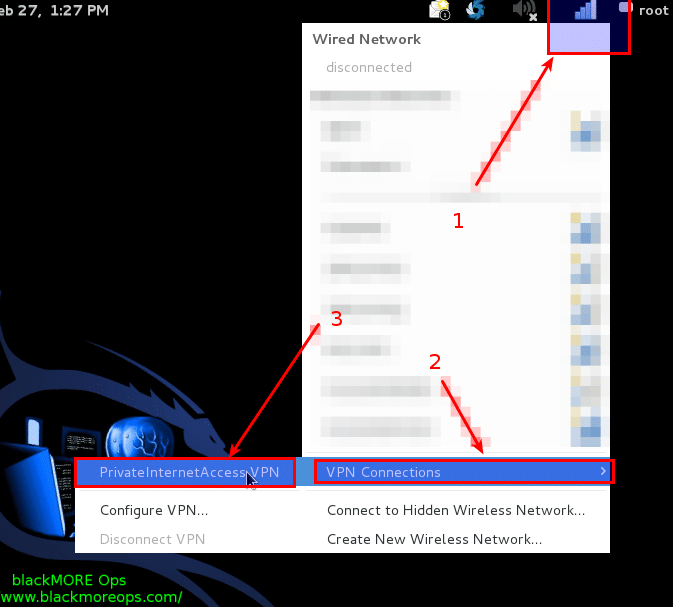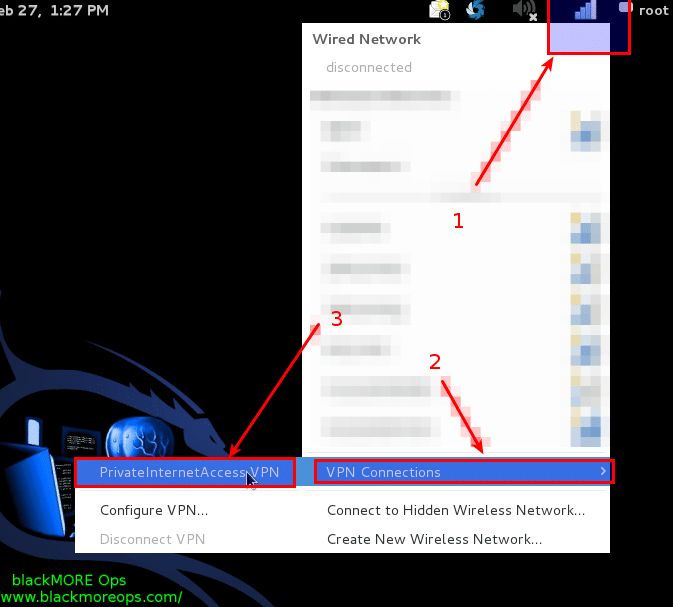 Setting up VPN on Ubuntu
Ubuntu parts were taken from PIA support site. This also covers Linux Mint or any Ubuntu variants.
This is almost as easy as it gets. There's 3 variations you can try to connect to PIA
Use PIA script for Ubuntu 12.04 or higher
Setup manually via Network Manager for Ubuntu 12.04 or higher
Setup manually via Network Manager for Ubuntu 10.10
Ubuntu 1 : Ubuntu Linux 12.04: OpenVPN Installer
Download the openvpn ubuntu installer
Run sudo sh ~/Downloads/install_ubuntu.sh (replace path to installer accordingly)
Type 'y' to install python 2.7 in case it's not installed.
Type 'y' to install network-manager-openvpn in case it's not installed.
Enter the login for your account.
Wait for the installation to finish.
Connect using the Network Manager.
Enter your password when prompted (only needs to be done once per region).
Ubuntu 2: Ubuntu Linux 12.04: OpenVPN via Network Manager Setup
Open a Terminal, and run: sudo apt-get install openvpn network-manager-openvpn network-manager-openvpn-gnome. This will prompt for both your password, and a Y/n answer, please provide it with your password, and Y
Once installed, open System Settings, then Network
Press the + symbol to add a new connection, and select the VPN Interface, then press Create
Choose OpenVPN as your VPN Connection Type, and press Create
The following will walk you though all configuration steps needed for the PIA VPN.

Gateway: Select one of the Hostnames provided on the Network page
Authentication

Type: Password
Username: The username provided with the PIA account
Password: The password provided with the PIA account
CA Certificate: Downloaded this zip file and extract the ca.crt file to somewhere it won't be deleted. We suggest your Home folder. If you extract this to your home folder, when searching for it, please click on your username on the left side, which will take you right to the home folder, then select the ca.crt file from the options on the right.

Advanced: Under the general tab, check the Use LZO data compression
IPv4 Settings:

Method: Automatic (VPN) Addresses Only

Press Save. If you chose to have your password saved it may ask for you to verify your password to open your keyring.
Ubuntu 3: Ubuntu Linux 10.10: OpenVPN Setup
In Terminal, install openvpn packages with sudo apt-get install network-manager-openvpn.
Restart the network manager with sudo restart network-manager
Run sudo wget https://www.privateinternetaccess.com/openvpn/openvpn.zip
Extract the files from the zip with unzip openvpn.zip.
Move ca.crt and crl.pem to /etc/openvpn
Open the Network Manager on the menu bar.
Choose add and select the OpenVPN connection type, and click Create.
Enter Private Internet Access SSL for the Connection Name.
Enter us-california.privateinternetaccess.com [*] for the Gateway
Select Password and enter your login credentials.
Browse and select the CA Certificat we saved in Step 3.
Choose Advanced and enable LZO Compression.
Apply and exit.
Connect using the Network Manager.
Testing: Leak Test Sites

Once connected, you would like to head the following websites to confirm if you are leaking any informations
For DNS Leak test, check here:
http://dnsleak.com/
For Email leak test, check here:
http://emailipleak.com/
Those who uses ipv6, check your leaks here:
http://ipv6leak.com/
Conclusion
VPN is good, VPN is secure, VPN allows you to bypass proxies, Firewall, monitoring and content filtering. But there's always that drama when you're using VPN, it sometime is slow and sometime is not that secure you'd think. But for countries like Iran, Pakistan, Egypt, China, North Korea etc. where content filtering is done in National Level maybe it's a way to get the voice out. I am not going to discuss legality here, so I will leave that to you.
Did I make any mistakes? Let me know. You can also tell me about your setup in comments section and I will be happy to include them in this guide or a new one.
Enjoy your PrivateInternetAccess VPN. Thanks again for reading my lengthy posts! Please share and RT.